Sometimes, a little step-by-step, you-can't-mess-this-up is what we need.  I hope this helps!
For this, we will assume you have signed in at Inlinkz.com and upgraded to a premium account (only $19.99 per YEAR- amazing!)
Lets set up the situation: you have a website that accepts submissions of a Wordless Wednesday, or Menu Plan Monday, or any other theme.  Using Inlinkz, you can let your readers submit their own posts.  Here's how to set it up:
1.  Sign into Inlinkz.com.
2.  Click on "Create new collection"
3.  Give your new collection a name (no one but you will see it).
4.  Enter a description that will be displayed on your post/page.  Here is where you can welcome them, provide a link to any rules and instructions for your readers to link back to you(covered below).
5.  Then set a description for others at Inlinkz to find your 'meme'/collection.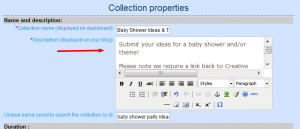 6.  How long will this collection be open?  And will you be repeating this every week or month?
7.  Select "Thumbs" for the image linkies, or "Links" for plain link collection.
8.  Select number of columns (3 works well)
9.  Select size of images (150px works well for larger images, 3 across)
10.  Show just a clickable image, or also a name & image.
11. Select whether the most recent (last) link should be at the top or bottom of the list.
12.  Check for email notifications whenever anyone posts a new link. This will automatically go to the account holder.
13.  Here you also decide if users will be emailed a notification of the new link, and if they will be allowed to delete the link once submitted.
14.  Then click Submit.
15.  Return to the dashboard, and click on "Advanced Options" under the new collection.
16.  Allow permalinks (1): this means the link may NOT go to a main site like wpbarista.com, instead it has to link to the real post, like: wpbarista.com/2012/01/how-to-use-inlinkz
17.  Require Link Back (2): this means the new link will not live until Inlinkz detects a link back to your site in the linked post.  It will specifically look for the link you put in the next box (3).
18.  Moderation on new entries: new links will NOT go live, until you visit inlinkz, and approve them.
19.  Go back to dashboard (via link at top of page), and click "get script" link under the new collection.
20.  Copy this box (Code n.1)
21.  Open your post or page in your WordPress dashboard.  Open the html tab:
22.  Paste your code where you'd like the collection & submission form to be displayed.
23.  Update, and view the page/post to view the submission form.  Test the form by uploading a new image.