Google Set To Shake Up Blogging in 2023 with Spambrain Update
Google is always looking to stay ahead of the curve and the Spambrain December 2022 update, is ruffling feathers of blog owners everywhere. Google has taken another step towards getting rid of link farms, 'directories' and specifically the practice of commenting for SEO.
I did a quick google for blog posts 'commenting for seo' and there are pages of results listing 100's of 'quality websites' where you can comment to receive a backlink. Apparently this is still a thing, and this new update will focus on bringing down spammy comments.
The Practice of Commenting for SEO
For those who are familiar with search engine optimization, the practice of commenting for SEO is a long time common website link building strategy. This method was formerly dependent on having as many backlinks as possible and earning the "link juice" from each one. This tactic was not as effective as SEO expert and bloggers thought at the time – and even less so given the Google SpamBrain update last week. So what exactly was it, and how can you prevent it?
[mailerlite_form form_id=2]
What is Commenting for SEO? SEOs need to get backlinks from relevant sites, with high domain authority (DA). One tactic used by SEOs is to leave blog comment backlinks on a high authority website. When published, that comment creates a link to their website, a backlink.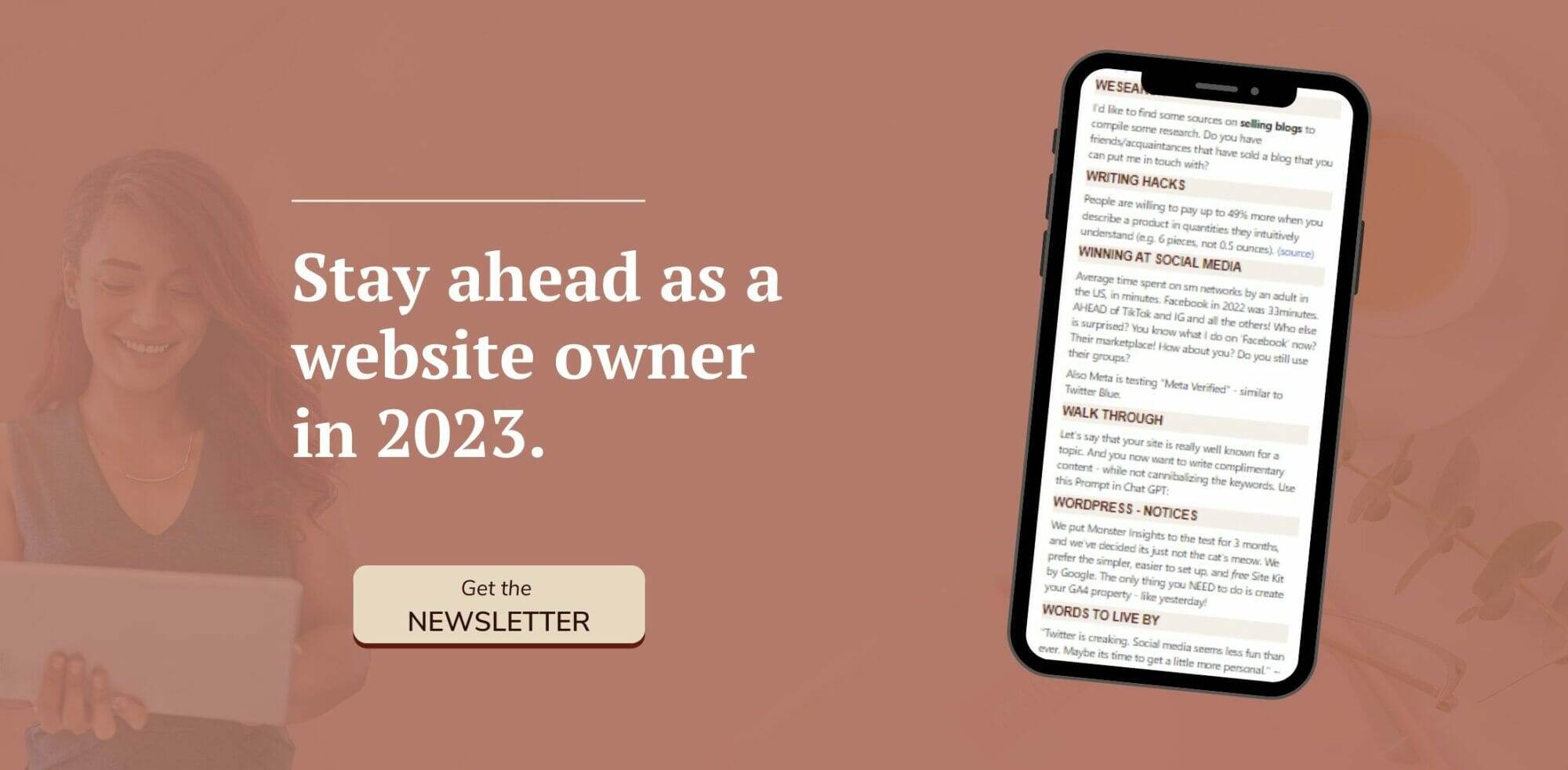 One search at google for "commenting for seo" resulted in these website links:
50+ High DA Free Blog Commenting Sites List for SEO in 2023
500+ Blog Commenting Sites List 2023 – Expert Training Institute
How to Boost Your SEO with 1000+ Blog Commenting Sites …
It was thought that more backlinks was better for your search engine ranking. So the practice of commenting for SEO, involved:
finding 100 or so blog sites in your niche,
checking domain authority on each website
leaving a 'high quality' comment (copied & pasted)
leaving your name, email and website link in the comment box
and repeating this 20 – 50 times per day depending how 'aggressive' you were with your linkbuilding efforts
I admit, I was shocked to learn it is taught by so-called SEO Experts! Let me be clear: it is not.
When you post on the website, you leave a link, email and name. And everyone thought that the link was forwarding 'link juice' to the commenter's site. In order to pass that 'link juice' the link would have to be a 'do-follow' link type. The problem is that WordPress 'outbound links' from the comment section has had a nofollow attribute since February, 2005, the same year that Google introduced 'nofollow' as an attribute to help combat spam.
Let me say that again – WordPress has NOT had do-follow backlinks since 2005.
In short, you do not need to change your own blog to keep your comment sections safe from comment spam and link-seekers.
Shortly after the 2005 update in WP, plugins were introduced to overrule WP and make the comments 'dofollow'. This means that link juice is passed from the website to the original commenter's website. It is a real 'backlink' that search engine spiders can find and index.
However, building relationships through valuable comments has always been a beneficial strategy connecting bloggers with other quality bloggers. And it does have the benefit of meeting friends within your blogging community, providing, of course, that you are engaging and thoughtful with your comment. Although the link is 'nofollow' to Google, internet users can still click on the link and visit the commenter's site. But there is zero SEO benefit to a link left in a comment on someone else's blog. Search engines do not 'follow' these comments.
Let's take a quick look at how to tell if your blog is suffering from comment spam, and if you'll be affected by the Spambrain Dec 2022 update.
Quality Link Practices
Be sure that you audit your outbound link practices (the ones that are giving others a dofollow backlink) with these general questions. When in doubt, do what would best benefit your audience.
Are the links that cause readers to leave your site worthy of your readers' attention?
Is the anchor text relevant and appropriate?
Have I used 'nofollow', 'sponsored' as appropriate? (ie: don't overwrite WP in order to allow do-follow links)
Is this monitored regularly?
How WordPress Treats Comment Links
The email address and the website address that you leave in the comment section has been a nofollow link since WordPress 1.5 – around 2005. That is the same year that google introduced the spam-fighting 'nofollow' attribute.
The best way for site owners to be sure the nofollow isn't overwritten is to be sure that your plugins don't offer any commenting features. We have found SEO, Comment and Discussion, and even Security plugins that offer a 'dofollow' comment feature (and 'instant approval blog' features).
All links in the content area of web pages (built in WP) are dofollow (so these will be 'dofollow backlinks' to the site you are referencing). If you have benefited in any way, (not just financially – a link exchange is a benefit) you must declare the link as 'nofollow'. If in doubt, mark it nofollow.
Pay attention to the total links leaving your website from the blog page, both dofollow and no-follow. Be sure the ratio of content to links makes sense. Pay attention to the comment copy on the page – the overall context – it is all scanned by Google. Remove spammy comments immediately. (See the plugins we recommend for this.)
Now that you know how to audit your links and keep them healthy – the following overview of the spambrain Dec 2022 update shouldn't be a shock.
Spambrain December 2022 Update Outcomes
The update announced by Google last week (Dec 12, 2022) is intended to target and remove link 'farms'. That is it. It is simple – but if you've participated in link exchanges, added your site to directories and any of the misinformed old-timer SEO schemes, it may impact your ranking.
To summarize stay far away from:
the comment sections that have the default 'nofollow' attribute replaced by a 'do-follow' attribute
Woman of the Year "Awards" that are offered – for a fee, it is another type of link farm
Entrepreneur of the Year – etc
I imagine each niche has their own version of this, "Travel blogger of the Year" etc…
(That doesn't mean that all awards are nonsense – some of them are amazing and I'm proud to know some of the winners!)
SEO services offers that seem to good to be true – they are
For all things good and holy, don't get hooked into SEO schemes. As a website owner, you need to be aware that relevant backlinks and real earned links take WORK and TIME. Digital Marketing and SEO is alive and well as a service, but, in my opinion, is reserved for the enterprise companies… the starting budget around $30k/month.
DIY Methods for SEO LinkBuilding
Links are still a great way to prove to search engines that your page is worthy of attention. To get high-quality backlinks requires great content and a relevant blog to that niche.
To get started, cover the basics with this SEO book. When you've gone through that, we can provide a mini audit for your WordPress site for $99 to get you started on the intermediate tasks.
Final Thoughts on Spambrain Dec 2022 Update
For blog owners that have followed best practices and truly written for their audience and not search engines, you'll be fine. When we covered nofollow link best practices, if you took it seriously – you'll be fine! If you did join a few directories (like I did) before you knew better, lets cross our fingers and hope for the best! That was a lot of years ago, and I think those sites are probably dead by now (I'm hoping!)
If you have participated in blog parties and linkups, it's time to talk to the hosts about removing them. And as always – follow the long term always-winning practice of serving your readers. You can't go wrong!
What are your thoughts? Questions? Join me on Linkedin to discuss!