Review of SamCart
Here's the FB Live that I did, explaining this concept:
Lets talk SamCart & Woocommerce. First – there is No integration. Secondly, samcart is NOT a good idea if:1 – you use woocommerceOR2 – you sell multiple productsI'll explain.

Posted by WordPress Barista on Tuesday, September 27, 2016
——————–
Have you heard the wonderful miracles that SamCart can do for your sales? Imagine all the money rolling in.. the only thing that no one is saying is: sales will only increase IF you can use it. There are some great reasons to use it, excluding the fact that they have every big name on the interwebs as an affiliate.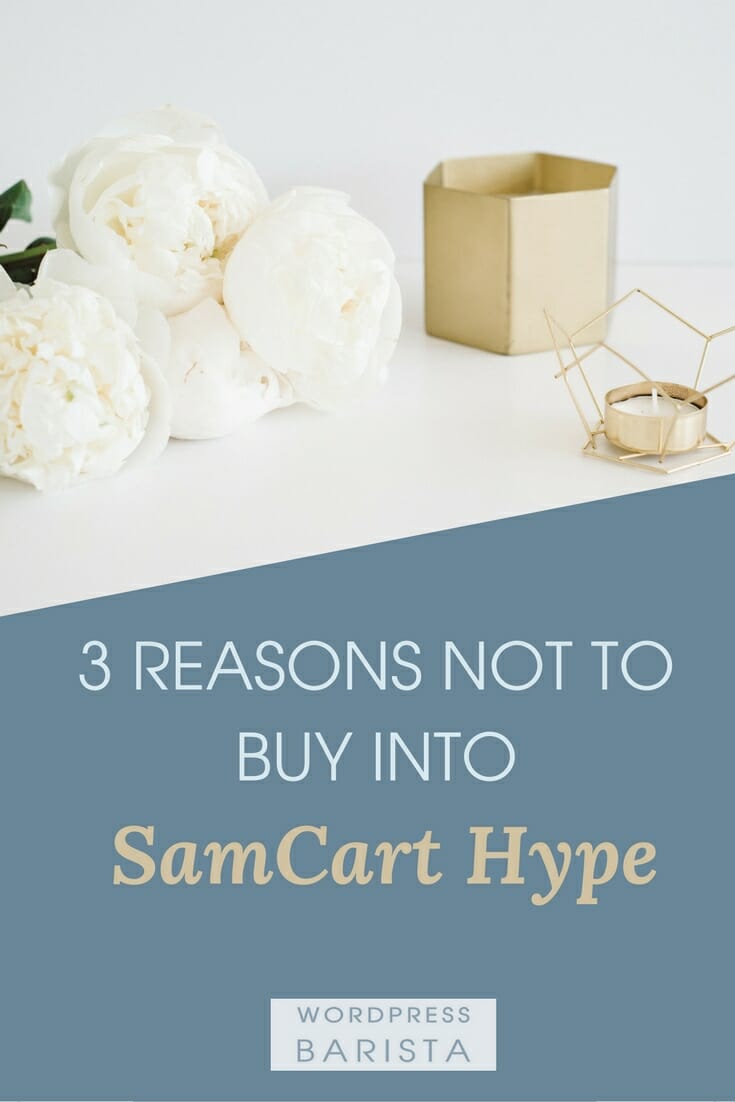 But there are some real reasons NOT to buy SamCart – and here are three of them.
1. SamCart & WooCommerce do not integrate
Just this week a client purchased SamCart and we were going to integrate it with her WooCommerce shop. With some cursory googling, we found that it can be integrated.
When we actually got down to doing the integration (with WooCommerce), we found that SamCart is in their words a simple "replace the checkout link" integration. Here's the problem – there is no editable checkout link or button.
As a developer, can I replace the checkout 'button/link' in WooCommerce? Sort of.
The checkout link is created dynamically. And all the products in the shopping cart are calculated and the information sent with the click – into the checkout process. Can SamCart do that? In short, no.
Also – it is worth noting, that if your developer (or myself) changes that checkout link in the hard copy of the WooCommerce plugin then on the next upgrade it is likely that the changes will be overwritten and we'll have to redo the changes. Ca-ching for me/your developer!
Changing the link isn't even the biggest problem!
2. SamCart does NOT include an Add To Cart feature
The biggest reason by far, that SamCart will not work for most shops is that it does not serve an Add to Cart Feature. Consequently, a buyer may only buy one item at a time. You may add upsells, but only one item may be added to the cart before checkout.
This begs the question, why is SamCart so popular? I have to give it props for marketing but also – it does something very well. It optimizes the actual checkout process. You are less likely to lose a sale because of the design of their templates, AND you are more likely to make more money by using upsells.
But this brings me to reason #3:
3. SamCart Upsells and Templates are not Unique
We are quite savvy with our dollars, and we are only convinced when we see the value of something. SamCart has done a great job of selling the value of their templates. And the value is plenty clear when you see the case studies of online celebs making buckets more money, usually through upsells.
Here's the thing, my friends, these features are not unique. In fact, they are the norm in most shopping carts. In WooCommerce, upsells, cross-sells, and grouping are features provided in the standard free version of any product.
So should you buy SamCart?
ONLY if you sell one item at a time and don't already have an optimized template to make the sale more assured.