How to Start a Website – Introduction
There is simply so much information out there – how do you organize it all? How do you know what you need, what is fluff and what is someone's opinion?
In this series, we're covering some basics like the definitions of hosting and domain names. Simple enough but essential to understand.
Then we go over how to select a hosting account from the myriad of providers (I may be biased on this one – check it out here.)
We talk about hiring a designer and if you can DIY it. And we can't forget to talk about Wix vs. WordPress vs. Squarespace. Should you even go with WordPress? Once that is all decided and lined up, we'll help with some great beginner growth tips.
Starting a website is a big topic so let's get started!! See the steps and articles in this series below:
I give you – the Start a Website series.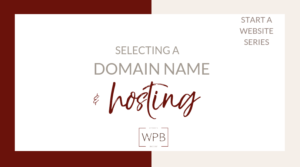 ---
The Intro < You are here! (Hi!)
Can you Do It Yourself or Hire a Designer? – plus how to hire the right contractors
A Nerd Glossary that you can use as a reference when the jargon starts to make you cross-eyed.
I like things that are quick to read and succinct.  So by skimming these articles in order, you should have all the information you need to start a website for your business or personal use.
If you're interested, use the search tool in the sidebar to look for more articles that delve into each subject.
Lets Start a Website!
A website is not like a program that is on your computer.  It is not like Microsoft Word or MacMail.  It is a program that lives on a different computer that you access.  This computer is referred to as a server.  All the servers networked together form the internet.  Yes, I realize that's basic.  But you have to understand the basics to get your very own piece of the action.
1.  You'll need to rent a piece of that server for your website.  This is known as web hosting.
Have you noticed that my company name, WordPress Barista, is not in the address bar atop of your browser right now?  If you look above you'll see the address is https://wpbarista.com.  That is the Domain Name.
2.  You'll need a domain name of your own so readers can find your new website.
Here is one thing that is like Microsoft Word or MacMail – the various programs that help you start a website.  Each web host usually provides some free programs for this purpose.  Other companies provide paid programs for this – like Microsoft Front Page and Adobe Dreamweaver.  And there is another class of software – called Open Source <- my favorite.
This overview won't go into the complexities of licensing or open source, but I do highly recommend one particular piece of Open Source software: WordPress.  We love it so much it's in our name.
3.  You'll need website software, such as WordPress.
WordPress Barista, formerly DSWP Website Services, was started because there was a lack of reputable and affordable services in our niche – at the time, mommy blogging.  Five years later, anyone and their teenager can sell domain names, web hosting and software.  But they also aren't aware of, or don't inform you how to start your website correctly, how to maintain it, and how to do well in search results.
So next up we'll show you how to find reputable sources for these basics, how much they should cost.